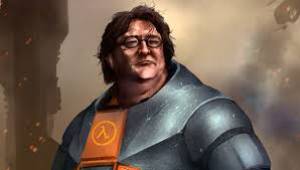 Pray 4 Gaben
Our Gaben,
Who art in Valve, Hallowed by thy name.
Thy Half-Life 3 come, thy puchase will be done,
Online as it is in offline.
Give us this day our daily deals,
and forgive us our guest passes,
as we forgive those who guest pass against us.
And lead us not into temptation,
But deliver us from Origin.
For thine is the kingdom,
the power and the glory,
forever and ever.

Gaben.




I was only 19 years old. I loved Gaben so much, I had all the games and hats. I pray to Gaben every night before bed, thanking him for the games I have purchased. "Gaben is love" I say, "Gaben is life". My roommate hears and calls me a faggot. I knew he was just jealous, of my summer sales. I called him a peasant. He slaps me and goes to Gamestop. I'm using my computer now, and my face hurts. I feel a warmth coming towards me. Something touches me. It's Gaben! He whispers in my ear. "This is my wallet." He grabs my hands with his powerful gamer hands, and puts them on my keyboard. I'm ready. I spread my wallet for Gaben. He penetrates my funds. It makes so much debt, but I do it for Gaben. I can feel my mortgage growing as my library starts to grow. It costs so much, but I do it for Gaben. I buy games myself. I want to please Gaben. He roars a mighty roar, as he fills my library with games. My roommate walks in. Gaben looks him straight in the eye and says "It was worth the weight". Gaben leaves through my computer screen. Gaben is love. Gaben is life.





O meni
SirDerpsAlot
muški
57 godina , King's Landing
Interesi
glazba

Dubzstep i remixoviii

filmovi

Mad Max: Fury Road

tv emisije

got,south park und anime

aktivnosti

Lig of leđends,half life 3,cs global ofenziv
Više o meni
hrana

Doritos And Mnt Dew

boja

Boja Gaybena

životinje

Nilski Konj

mrzim

dirty console gaming peasants

heroji

Gajben

#PCMUSTARDRACEGAYBEN
08. srpanj 2015
u373300
#PCMASTERRACIST
08. srpanj 2015
u373300
btw, who r u?
07. srpanj 2015
u373300
what about Steam OS?
07. srpanj 2015


GLORIOUS PC MUSTARD RACE!
07. srpanj 2015
u336966
Gaben is love,Gaben is life m8
PC MASTER RACE
07. srpanj 2015